MjLink.com Announces The Launch of AI Powered Business Tools in Advance of MjBizCon in Las Vegas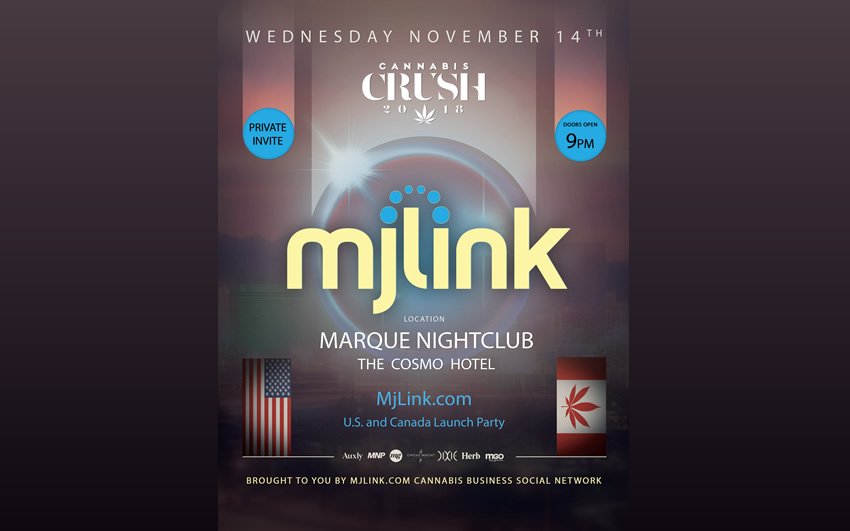 Providing cannabis industry professionals with easier and more efficient online social networking and lead generation tools.
DENVER, CO – November 13, 2018 /AxisWire/ – MjLink.com, Inc., a wholly owned subsidiary of Social Life Network, Inc. (OTCQB: WDLF), announced today that it has launch a new set of AI powered lead generating and automated marketing applications in its MjLink.com cannabis business social network.
"We have been working on these AI powered applications for the past year and we couldn't be more excited to have them ready to go the day before we attend the MjBizCon in Las Vegas on November 14th through the 16th," said CEO Ken Tapp.  "These applications are like no other social networking applications found anywhere online, and they will revolutionize the way business professionals use MjLink.com to connect with their customers and other entrepreneurs," adds Tapp.
Mike Fuller, MjLink.com online Information Officer notes, "With the launch of our lead and marketing automation engine, a cannabis business professional can capture online friends, followers or even the people they meet at a tradeshow as leads, right from their MjLink profile page.  We have established multiple tech partnerships over the past year in order to accomplish this lead-flow automation, and we now have successfully integrated with Salesforce, Hubspot, Zoho, Pipedrive, Mailchimp and 178 other CRM and Email Marketing platforms that our business members can connect their MjLink pages to."
To kick off the launch of their new AI business applications, MjLink.com became a major sponsor of the MjBizCon conference that is expected to have more than 20,000 business professional attendees.  MjLink has also partnered with Dixie Brands to put on Cannabis Crush, a private 600-person customer appreciation party for the cannabis industry's most successful and influential cannabis business professionals, during the Las Vegas conference.
About Social Life Network, Inc.
Social Life Network, Inc. is an artificial intelligence and blockchain powered social network and e-commerce technology company based in Denver Colorado. They launched their first social network, WeedLife.com, in the cannabis and hemp industry in 2013, and have since launched niche e-commerce social networks to meet the growing demand for social technology in the residential Real Estate industry and many sports verticals including Golf, Cycling, Tennis, Soccer, Hunting & Fishing world-wide.
For more information, visit https://www.socialnetwork.ai/
Disclaimer
This news release may include forward-looking statements within the meaning of Section 27A of the United States Securities Act of 1933, as amended, and Section 21E of the United States Securities and Exchange Act of 1934, as amended, with respect to achieving corporate objectives, developing additional project interests, the Company's analysis of opportunities in the acquisition and development of various project interests and certain other matters. No information in this press release should be construed as any indication whatsoever of the Company's or MjLink's future financial results, revenues or stock price. There are no assurances that the Company will successfully take MjLink public in Canada. These statements are made under the "Safe Harbor" provisions of the United States Private Securities Litigation Reform Act of 1995 and involve risks and uncertainties which could cause actual results to differ materially from those in the forward-looking statements contained herein.
Contact:
Investor Relations
IR@Social-Life-Network.com
855-933-3277